The Civic, Yorkshire
Caroline Cardus
The Way Ahead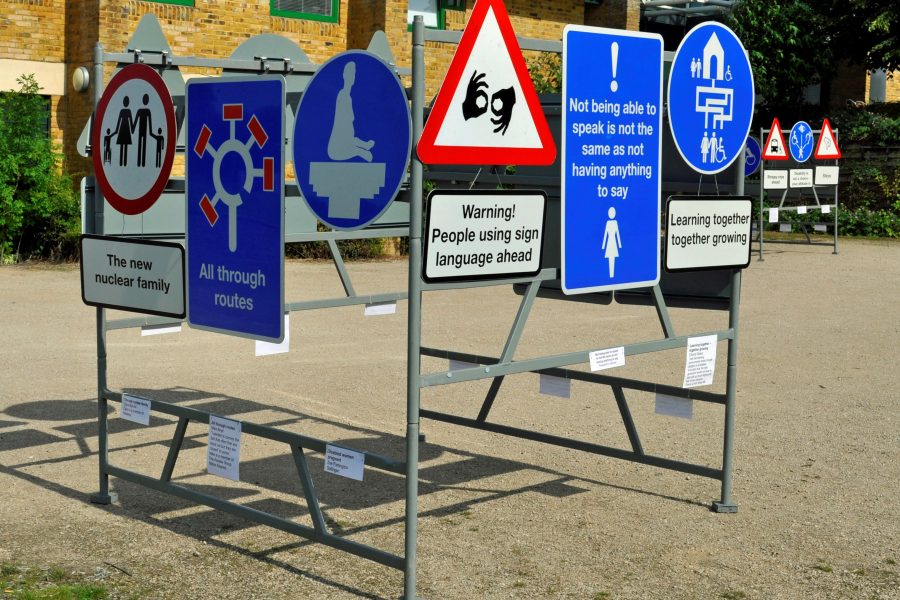 The Way Ahead was created by artist Caroline Cardus to reflect the issues disabled people wish the government and society were addressing more thoroughly in an accessible, subversive and humorous way.
Over lockdown Caroline collaborated with local disabled people from My Barnsley Too, Wednesday's Voice and Artwork South Yorkshire to create a series of bespoke road signs, which turn disabled people's access requests into powerful, visual signs, subverting the familiar and communicating the barriers many face when trying to participate in the world.
The final artworks were displayed in Mandela Gardens in Summer 2021.
Caroline Cardus
Caroline Cardus is a visual artist and writer interested in language, sub-cultures and identity. Themes in her practice include the use of text in simple and powerful messages that emphasise power and language and subverting familiar objects to reveal subcultural identity. She delivers large scale public art in a variety of mediums including photography, traditional printmaking, graphics, collage and mixed media. As an experienced workshop leader she has worked on collaborative art based projects since 2000 specialising in hard to reach communities, including disabled people, young people and people using the mental health system. Since May 2012 she has been Chair of the Board at Disability Arts Online (DAO), and has served as a board member since 2007. DAO is a unique journal for discussion of arts and culture, giving disabled and deaf artists, performers, film-makers, writers, and critics a place to talk about and share artistic practice.
Website