The Spring In Isolation
Blog by Lorna Rees, Artistic Director - Gobbledegook Theatre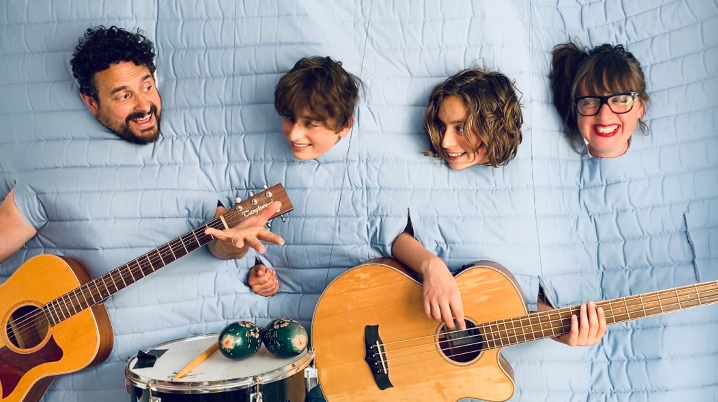 To say this year has been very different to what we'd imagined it is a bit of an understatement and it's been tricky to not feel, well, pretty devastated by lockdown. I'm the Artistic Director of Gobbledegook Theatre. We're an outdoor arts company and every one of our shows, projects and performances was cancelled or postponed this summer, and all of our annual income for the year seemed to disappear in the space of a fortnight. People have died in our community and in our family. It's been very tough on so many of us in so many ways.
In June we were meant to be working with The Spring, cycling around Havant in our beautiful bright yellow pedicab as part of the Here and Now national project happening in 40 arts centres. We'd envisaged our vehicle being a way of making brilliant conversations happen. A talking tricycle for pedicab pow-wows. Our bike has room for three passengers and we wanted to cycle people around the town – perhaps folk would like to collect laundry, pick up the kids from school, meet their friends for coffee or take a ride along the beautiful Hayling Billy Trail. The only payment we were asking for was a conversation and what we discovered would form an exhibition about Havant, its past and future (including some beautiful Kenwood Blender, Scalextric and Tampax garlands to celebrate the town's heritage). All of this would be exhibited in The Spring's Mezzanine Gallery from September – October 2020.
We don't live in Havant – we're just under an hour away, so The Spring Cycle was also a way of exploring the area and asking the people who live there to share their town with us and to tell us about it. We'd been really excited about collaborating with the team at The Spring, especially with the Director, Sophie Fullerlove, who was happy to explore with us and genuinely thrilled to have an open process of co-creation with our audiences. We don't create work with communities unless we feel that the work and the legacy of that process will be continued and valued by the commissioning venue or festival. With The Spring I had no worries about this at all.
And then everything in our world was suddenly paused.
And it has been hard at times to try to even conceive of what we might even do now as a theatre company, or how we carry on. Where we live we've made food deliveries, taken people to hospital in our van and tried to serve our neighbourhood. We've written proposals and applications and attempted to see how we might go digital with some of our other work with varying degrees of success and frustration. And some of these commissioning opportunities, and applications, and this re-imagining of projects for new circumstances has been, well, hard – in all honesty, creativity at gunpoint doesn't make you feel extremely… well, creative.
But, (albeit I am often accused of Pollyanna-ish-ness) we are emerging from this part of the lockdown period having learnt some stuff about ourselves and how we make our work. And we've surprised ourselves a bit. Because as times have been really tricky, we've gone back to some simple stuff that just makes us happy. We've gone back to messing about and what some theatre people like to call 'play'.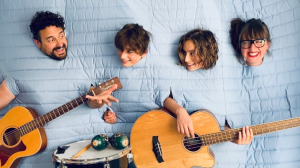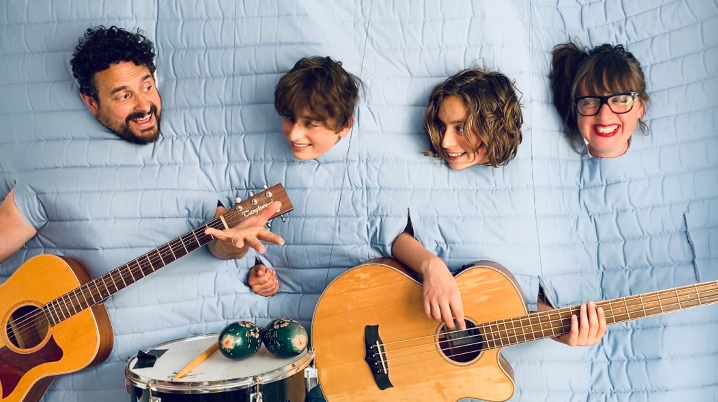 Lockdown Band cover of A-Punk
Adam (my Gobbledegook Theatre co-director) and I are privileged to both live and work together and we've two kids, a 12 and a 14 year old. And our home is full of instruments. Where other people have bikes or lawns we have sheds and pianos. I've ancient battered violins and cellos and trumpets, our studio/garage is an elephant's graveyard for nearly dead and donated instruments. And we've found great solace in just playing music together. We've played covers and written songs and made videos. Because I realise, I find it impossible not to be making some kind of project, we called ourselves The Lockdown Band. At first I thought it was a sort of 'nothing to lose' creative suicide – Gobbledegook does make joyful, playful work, but in our national and international touring installations we pride ourselves on high quality, deeply considered artistic presentations with excellent casts – this was just us making silly sometimes fairly musically terrible covers of things, occasionally in costume. Yet somewhat remarkably, in the past two months there have been tens and tens of thousands of views of our 'Silly Songs for Serious Times'. And I've stopped being quite so precious about my output (for a while at least).
And we have been SO reminded about why we make art in the first place. It's connection and audience. It's something shared with community. We've varied our styles. I suppose we have rules. None of our covers can have backing tracks. All covers must be one shot and live (no editing) and songs have to be joyful. Crucially, if it's not fun doing it, we stop. After all, on lockdown and as a family we can't split up for musical differences. Sometimes my ideas are slightly over-ambitious (the Bananarama string quartet really wasn't working) and some have been veto-ed (my favourite band are the Beastie Boys, but our eldest will not do Intergalactic as it would be "sacrilegious").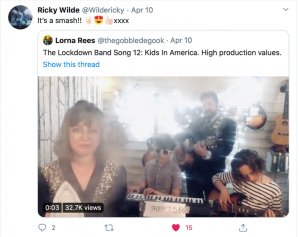 Screenshot of a tweet of Kids in America
Possibly our zenith has been tackling Kim Wilde's Kids in America with steam iron as smoke machine singing into a hairbrush which saw 34,000 views on twitter and an endorsement from the song's writer. Bonnie Tyler's I Need a Hero with cymbals is a close second, and you've not really understood the sheer genius of Depeche Mode's Just Can't Get Enough until you've heard it played on a dented euphonium. We performed a concert on our driveway for our neighbours and have appeared on local radio and in the local paper. The kids and I take it in turns to be the lead singer (Adam's not so keen on singing) and covered everything from Duke Ellington to The White Stripes to Hall & Oates to Vampire Weekend. We've a firm sense of what works really well – Bluegrass-ish harmonies and 1980s songs, sometimes the music suffers for a theatrical concept, but no one is too precious about anything.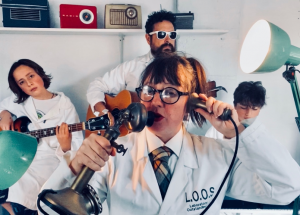 Lockdown Band cover of Video Killed the Radio Star
We even had a song commissioned by our local arts venue, Lighthouse, Poole (another Here & Now partner) to celebrate 40+ years of live music gigs. We asked for suggestions of the best gigs people had attended there on social media and, 200+ suggestions later (particularly referencing the sprung floor in the venue) our song and homemade music video for 'And The Floor Bounced' has been viewed thousands and thousands of times. You can see it here.
I was even brave enough to submit my own specially written piece of music to Richard DeDeominici's Coronavision Song Contest… something I don't know I'd have even contemplated pre-lockdown, and well, you can read about that here, but spoilers, I LOVED it. Richard is another Here & Now artist by the way, and I believe I'm contractually obliged to call him a genius (he is).
This bit of unfunded creativity in our own little family and the kindness shown to us because of it, has rather saved us through this period. Rather than totally focusing on the grief of lost people, income, commissions and gigs, we've still been communicating with audiences. We sit at dinner and read out the comments people leave us. Many of these comments from our local community, but one of the most rewarding things is that we've also managed to start talking with people in Havant through facebook groups. We've recorded some songs for the Library Service's digital programming – we've even been given honorary library membership as a thank you from the amazing Hampshire library service (which obviously had me in tears). Please do not think in writing this that I don't want to direct the larger-scale expensive work which had been lined up for this year – I certainly do – but it has reminded me why I want to do it in the first place. I think that this brief interlude will be useful to my practice. I certainly think it's chimed in many ways with making things in and with communities – in very much the way that the new Arts Council Let's Create Strategy implores us to do.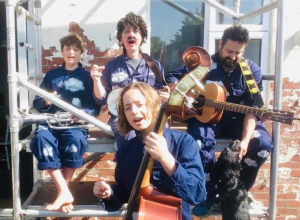 Lockdown Band cover of Hall & Oates' Dreams Come True
As many artists are doing, we ARE starting to find new ways to connect and to make our work. New ways of approaching our 'socially engaged practice' are emerging. I'm an outdoor artist because I don't really like the barriers buildings often present to audiences. I cannot wait to start seeing people in person, but I am also reminded that I am first of all an artist, and the thing I am always most driven to do is to make art with and for people. If doing some things on digital platforms works – especially having conversations on social media – then let's try it? I've already learnt loads about Havant through community chatter, brilliant oven cleaning tips, who is digging the flower beds for the police station and I'd commend you to the local newspaper's link to the brilliant Elvis Impersonator who stands on rooftops serenading his neighbours.
Before the lockdown, I attended a meeting convened by The Spring led by David Loumgair from Common Theatre about connecting with working class audiences (something, because of our own backgrounds Adam and I are pretty passionate about) and one of the really useful comments from the meeting was that facebook is a great way to connect people. For all its political ambiguities and potential for disinformation and discord, during the pandemic I've found facebook to be a kinder, more helpful place than so much of twitter, and it's certainly been a way I can talk with not just my immediate hyper-local community, but a whole new bunch of people.
We're lucky, we've got some emergency arts council funding, a plan of sorts is emerging for the future, and we've been through much of the grieving process of lost gigs and projects. We've also bid farewell to making some projects in the way in which we'd first envisaged them. But we're starting to find a genuine excitement about some of the new ways of connecting to audiences in meaningful ways. The Here and Now project – it seems to us at least – is all about finding new ways to connect with communities and to chat with them, so we're starting to get more than a little excited again, about doing just that.